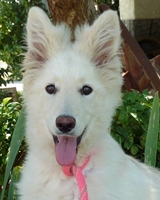 This pure white four month old has stolen the hearts of all the SCGSR volunteers! Artica is a little shy, and she's looking for a family that can help her bloom!
Fostered by Marcy!
Adopted 08.14.11!
(This was her on socal shepherd rescue in the summer.)
KILLED by the adopters, through their Vet, for being "anxious" we found out today, December 20, 2011. There might be more to the story BUT THEY DID NOT RETURN HER AS THEY SAID THEY WOULD IF THERE ARE PROBLEMS and were committed to by contract.
You can read more about it on their fb post:
This was the adoption description on the website:
Artica
Artica is an adorable four month old puppy, rescued from a hoarding situation. She hasn't received all the human attention a puppy needs, and she can be a little shy with new people. But like all puppies, she's resilient and curious about the world, and will quickly come out of her shell with consistent care. Artica is good with other dogs, and sweet and docile enough to learn to live with cats. This beautiful girl is looking for a home where she can spend a lot of time with her family. Kids ten and up would be best, and another doggie role model will make her transition to a carefree, silly, bouncy girl even faster. Puppy kindergarden classes, and a thoughtful, patient approach to socialization will help turn this little white puffball into the perfect companion dog. Are you ready to add some love to your life? Apply to meet Artica today!