Our philosophy
All paths, when taken sincerely, will lead to compassion for your fellow sentient, feeling creatures on this beautiful planet –  and wherever you are in this world, in your particular circumstance or belief, you can do something to help, even if you have no money, even if you can't take in an animal from the streets or the shelter.
There are many many dedicated, passionate and devoted animal lovers out there working tirelessly to save, rescue or treat animals in need. It is amazing. This works is happening in all countries and with people of all faiths and spiritual paths. We respect  all of  you, the animals need each and every one and all the help they can get , no matter which spiritual path you have chosen, or where on the grand  ladder you find yourself.
When one is able to feel from the heart, when one is able to feel empathy, one can't help but want to help those in need. And help is needed on many levels.
Awareness and compassion start with your being, in your mind and in your heart.
You can begin teaching this to your child, today. By words, and better yet, by example. You don't have to have a pet living in your house.
Say: you are touched by all those working to alleviate the suffering of the animals or working to change the situation – the simple sentiment of gratitude is help. A prayer for strength for those in the field, a lighting of a candle in your church or on your home altar, the offering of incense and a moment of silence, visualizing happy dogs in good homes. Even if you can't take your child to a shelter, he will remember when you pray at the table saying grace: …and we are grateful for those who are helping animals in need, without a home….
Children learn through example and doing: building, experimenting, caring for animals, gardening, painting, singing, learning other languages, and experiencing different cultures.
There are many other ways, large and small, in which you can contribute.
Donate
Sponsor
Foster
Volunteer
Fundraise
Change the Law
Do something! Now! If not now, when? Tthe world needs you! Take the first step, however little, to act on what you know.
If you are touched by animals in need and if you are online, you can look around and click the "like" button on projects that help. That is support too. All is costs your  is attention and willingness. If you have children and you want to go further, you can teach your children simple respect for all living things, or the techniques from the from the MindUP™ program, Goldie Hawn foundation. It increases empathy in children, essential for compassionate action towards fellow creatures of the earth:
Get Focused! (1. Learning How Our Brains Work; 2. Understanding Mindful Attention; 3. Focusing Our Awareness: The Core Practice)

Paying Attention to Our Senses (4. Mindful Listening; 5. Mindful Seeing; 6. Mindful Smelling; 7. Mindful Tasting; 8. Mindful Movement I; 9. Mindful Movement II)

Changing Attitude (10. Perspective Taking; 11. Choosing Optimism; 12. Savoring Happy Experiences)

Taking Action Mindfully (13. Acting with Gratitude; 14. Performing Acts of Kindness; 15. Taking Mindful Action in Our Community)
Find places near you where you can volunteer.
A local place for saved farm animals: Animal Place
One of my favorites: German Shepherd Rescue of Los Angeles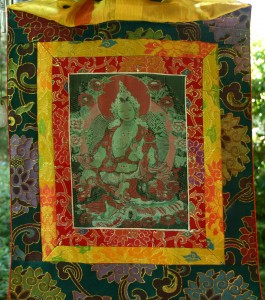 Tara's Babies is a no-kill dog rescue and lifetime Sanctuary.
Kunzang Drolma (Taras Babies): Established by my teacher Jetsunma Ahkon Lhamo when she witnessed the horrendous suffering of pets forced to stay behind when Hurricane Katrina hit. We rescue dogs on death row and care for them until they are adopted, or for the rest of their lives. We will never abandon a dog whom we have rescued. I live on site and have the privilege to help care for the dogs. They teach me about love, kindness and compassion.
Example of a Buddhist organization incorporating animal activism, including being vegetarian. Kechara Animal Sanctuary
Inspired by  Skye.
For the Benefit of all Sentient Beings Everywhere