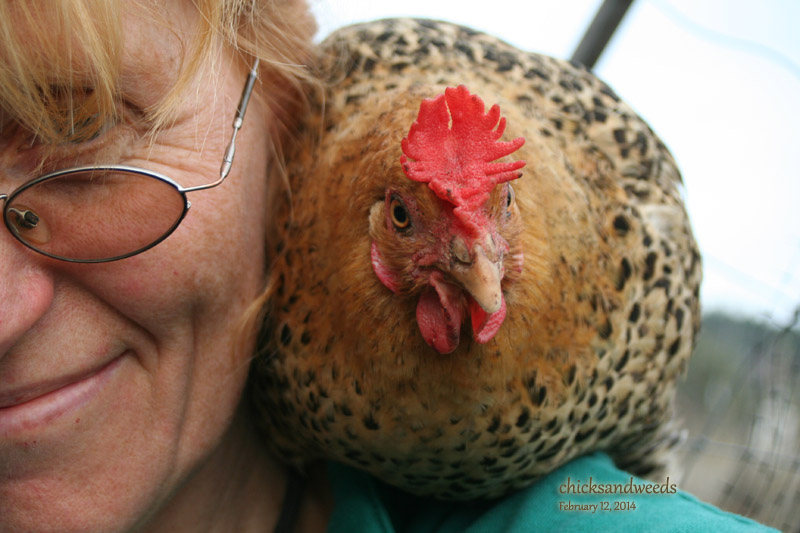 Ya, what about chickens and what does that have to do with Helping K9s?
I will keep it as short as possible.
Trying to do the best for Skye – a young German Shepherd/Husky from the shelter I took care of for 7 months – got me to do some searches on the internet. While I was feeling devastated about what I found out and saw about the plight of dogs all over the world, it quickly expanded to realize – to my horror – just what exactly is happening with commercial animal keeping as well as commercial food production and the destruction of the planet. The amount of suffering inflicted it beyond comprehension.
Our local no-kill shelter, Sammie's Friends, routinely also gets animals other than cats and dogs, mostly farm animals, to take care of ….including roosters, but don't get me started on the plight of male chickens – by the billions.
I became a vegetarian, but didn't see myself giving up eggs,  and, being able to work a corner of the property where I live, I got some chickens with the intention to do sustainable gardening with happy chickens, an ongoing project as well as learning experience as of fall 2014, the time of this writing. Recently I started doing (free) art classes online once a week, and the project there has lead to fundraising ideas  that are currently (October 2014) being worked on. So exited – it is coming out of a women's creative workshop project.
It all needs to weave together –  personal lifestyle choices, volunteering, fundraising, sustainability and working together within an organization and with other organizations.
Everyone is doing the best they can … and yes, sometimes our best seems so not the best.
I honor you for still hanging in there in the face of such overwhelming odds.
Read here about my favorite rooster, Blacky