Short of actually going to the shelter, Sammie's Friends is on facebook where you can see available dogs and cats. There are always more, but you can see some of them and contact the shelter. If you don't live in Nevada County, Ca – have you checked if your local shelter has an internet presence?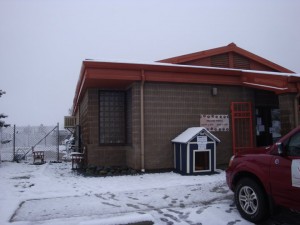 Sammie's Friends is a no-kill shelter in Nevada Country, California. Several hundred dogs go through the shelter in and out every year –  and even more cats, but also all kinds of other animals.
We started volunteering a little here and there, and in January 2012 started to work with dogs there regularly. One of the tasks is to find new homes for those dogs who have been there for a while. A lot of those are pit-bull mixes.
We will be featuring some of the dogs here on the website and call them Helping K9s Special Feature Doggies.  Sammie's Friends has many more animals than we can list here. All of them deserve to be "featured". Alas, one can only work one dog at a time. Please enjoy the reports – and if you would like to donate for supplies needed for dog training, please do. For now, you can do it through the Sammie's Friends website.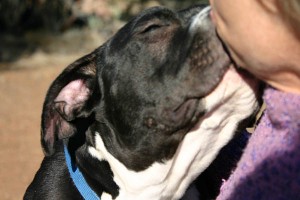 Our first featured dog is Flo. Please check her out. Flo is ready to go home.
This is from their website:
Veterinary Care for Nevada County Animals
Save a life!  Join us in helping provide medical care for sick or injured animals at the Nevada County Animal Shelter, thus making them adoptable and helping them find new homes.  We also support other disadvantaged animals in our community who might otherwise be euthanized to end their suffering
In 2012, Sammie's Friends will see the addition of a dog rehab center, Sammie's Pit stop" for those dogs who need to re-learn how to be social.