There is little that separates humans from other sentient beings – we all feel pain, we all feel joy, we all deeply crave to be alive and live freely,and we all share this planet together.
–Gandhi –
The fate of dogs and animals in general is not an issue of only a few animal loving people but one that rightfully concerns all of us. Some of our projects are local, some are online with the global community of animal advocates. Current projects and goals of Helping K9s  include:
Networking & support:

Supporting others

in their animal advocacy and charity work, mostly on social networking sites. There are many very worthwhile projects on facebook advocating and working for a variety of animal, nature and other good causes. Believe it or not,  getting support or "likes" or sharing helps to keep going energetically, just because it is good that someone else cares….so if you are reading this ….what is it gonna cost you to "like">
Education/raise awareness/inspire: "what you don't know won't make you hot", you stay unmoved, won't get you going. You don't even know help is needed.  We raise awareness on the issues related to dogs and animal suffering in general using facebook, blogging, YouTube and on this website as well as in daily life, if the opportunity arises. Education in schools or youth groups is an intended project atm.
Fundraising/Education/Cooperation:  "Art 4 Paws" This sweet project is getting local artists as well as those wishing to participate online by donating artwork or sharing a portion of their art sales brokered through Helping K9s back to the local shelter and so the community.
Getting others involved allowing them to do what they are called to do is a way to go. The art could be paintings, sculptures, free photography, house concerts or playing at fundraisers.
Local volunteer work at the shelter  – help assess, provide contact for the dogs, play, train, network, make videos of available dogs
Future Projects include:
– support people with their adopted dog related issues.
– provide a dog socialization/training place for people to go to who have adopted shelter dogs or own a more challenging breed who then turn out to have some trouble.
– develop small and affordable courses for dog socialization and training
– foster shelter animals competently.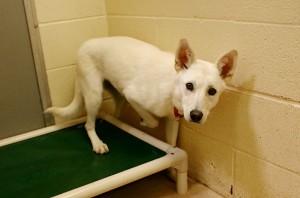 This was Valentine, a semi feral dog I visited until she got adopted.
Sammie's pit stop progress report – October 31, 2011