You might remember Flo from Sammie's Friends Animals shelter, who had been there for 5 months, since August 2011, having been found as a stray with her sister at about 10 months of age. We made an effort to help her get a home. (see video below if needed)
In January we started a bit of a campaign to get her out and SHE GOT ADOPTED in February –  and has found a home in Phoenix, Arizona. A volunteer and her new owners met halfway. It is SOO much fun hearing some Flo stories, but I wanted to report too because there were several things that were done right imho – to get her adjusted to this major move.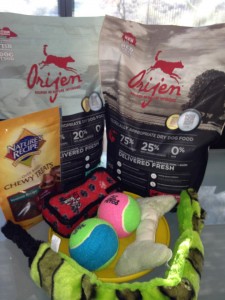 The adopters got a fair bit of info about her beforehand, and if I may say so, a bonding happened before they ever personally saw her. They said they were ready 🙂 See good food and toys. Her new mom and dad have fallen in love with her – to no one's surprise here.
Even during the drive home, when Flo wanted to spend time on the motel bed, it was obvious who was going to be calling the shots in the house: no sleeping on the bed. This is a generally recommended rule and a good one! I know there are lots of folks who do this, but to start with: keep the dog in its own sleeping spot!!! Much later, you can always extent an invitation. Once home, they kept her in the closed crate at night, and what dog that has been kenneled in a shelter for months is gonna have a problem with that? They GOT TO KNOW THE DOG, allowed some time for adjustments. After a few days – they left the crate open: but Flo still went in there to sleep – it musta felt like a safe spot. Now, after 2 weeks, she has proven herself non-destructive in the house – and can even be left alone in the house.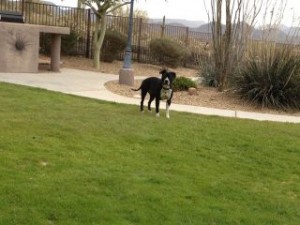 In her new home, there is a fenced yard and a doggie door. And here is what the new mom had to say about it :): February 14: – You would think she never had a yard! Has the doggie door under control, out to the yard and run run run, into the house to say Hi, out again and run run run. Later that same afternoon: She just can't get over it–in and out still–running and running and throwing toys around.
She musta felt so free and happy 🙂
Destruction of watering hoses: Good Move again – make is so you don't have to keep saying no all the time:  Turns out, Flo LOVES tearing up the watering system ….so..here is another good move: rather that adding attention to the object of the hoses, making them more attractive, or creating a game type situation, they did not say no, no …but the replacement hoses will be smeared with a harmless but bad tasting substance …and the problem will resolve itself.
Regarding House Training: The few days on "foster vacation" as well as a couple of days with the trainer must also have been enough to get her house-trained. Here is what her new mom has to say about that: Okay you rescue people–contrary to popular belief–this sweet doggie is house trained. I haven't had a chance to show off my great training ability cuz she has gone outside on her own since she got here. Go figure!
For those of you considering a few days of foster for a shelter dog: even that can train a dog to "go" outside.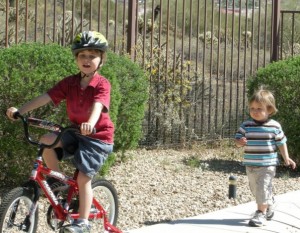 INTRODUCING KIDS: Again here you could see that skill and consideration was applied. There were several grand-kids – which got introduced after a few days of adjustment time. The introduction was kept calm – with special instructions to the children. They were allowed to give her treats. Flo did not know kids – and was a bit reserved – and you can see that if letting the kids running around wildly the very first time could have set up a non-favorable dynamic. Flo was a little afraid of the littlest one…but then she figured out the kid was willing to throw a ball …and they became fast friends. Very nicely done :)!!!!!!!!!!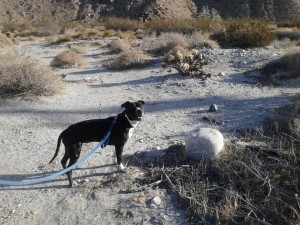 HIKING : On he very fist time Flo got aquainted with a cactus and had thorns in her paws, which her new mom had to then pull out. Please note: she is being kept on a leash!!!! It is way to early to let her run loose. On the first longer hike haha – at some point she just laid on the path and didn't move …pooped out …but then was ok after a 10 minute rest. I wish there was a photo of that 🙂 Seems like Flo will have to build up some stamina :).
Flo also had a play-date with a dog buddy, which went VERY well, and went to an open dog park, where she did well also – but here needs to be kept in a state where she will come no matter what. She was able to be recalled well when her mom noticed something new…like a new dog …but after 30 minutes – Flo thought she was free to do what she wanted – which ended the park time and adjustments are being made.
Folks are soo happy with her – and it looks like Flo is too. I wanted to report on this not only because it is so great to hear "Flo-stories" but also because several things were done right in helping her through this major adjustment and all the new things in her life.
Also, the consistent effort of the shelter and the volunteers to keep her sane during her 5 months stay there makes  a big difference.
Here a refresher on Flo, text below video:
This is Flo, a 14 month old former stray. Her sister got adopted & Flo is "at home" at the shelter …yes, she has been here at the shelter for 4 months for no good reason. – BECAUSE SHE IS ONE OF THE BEST DOGS – great temperament.
This beautiful girl is ready to go home to her "furever" home. She is lively, responsive, loves to play – and play some more, though not at all hyper. My impression is that she would be a good jogging or hiking buddy. Takes treats very gently. She is good with other dogs. I took her out yesterday (4 days ago now) and the second time tried to get some pics. She is said to be a pittie mix, I can see some lab in her too. We were out in the shelter side-yard today, January 12, our first time there – she can easily be invited to play …runs with you, plays tug a little luke-warm and without any aggression and is easy about dropping, sits for a treat and if you ask her to. Makes eye contact easily, comes to me when called in the yard – this was in the side-yard without other dogs around. I was surprised, seeing how she REALLY wanted to get out of the kennel -…how just playful and mellow she is out in the yard. On walks, I can easily re-direct her attention towards me. For me, she does not really pull much at all, though her kennel says "strong walker". She is very sweet. After seeing her a couple of times …she had that look of beginning recognition today: oh …it's you wag wag tail. She does not jump up …she does not slobber all over your face, unless invited – I tested it (once) – some people like that, myself, I prefer it a bit more reserved ….and no kissing without at least some encouragement. She will be someone's totally awesome best buddy. She has a great temperament, makes eye contact easily, her body is soft and she is energetically flexible. ..and as I said, she does not jump up on your and I totally appreciate a little bit of reservedness 🙂
She also went to a foster vacation for a few days.