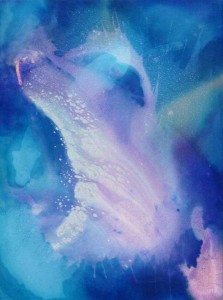 Our "Art 4 Paws" Shelter Animal Fundraiser with beautiful art, original paintings, sculpture, jewelry and prints from various  artists. Look for auctions or sales to benefit a local shelter. If you are an artist and would like to submit  art to this project, please use the contact form. It is not a new idea I am sure. The intention is to get local artists involved. Art does not have to be painted – music counts 🙂
This painting by Lil Mc Gill, artist in Grass Valley, California, is starting off this project –  with a resulting donation to Sammie's Friends. The painting signifies for me the spirit dimension of Skye, and with it, the spirit of all canines, the spirit of  dogs and wolves.
They need your help. To donate art, or if you sell art and wish to make a donation from the sale, please contact us.