FLO – our first advocated dog – and or course there is a special bond – she has since hit the jackpot with a new home in Arizona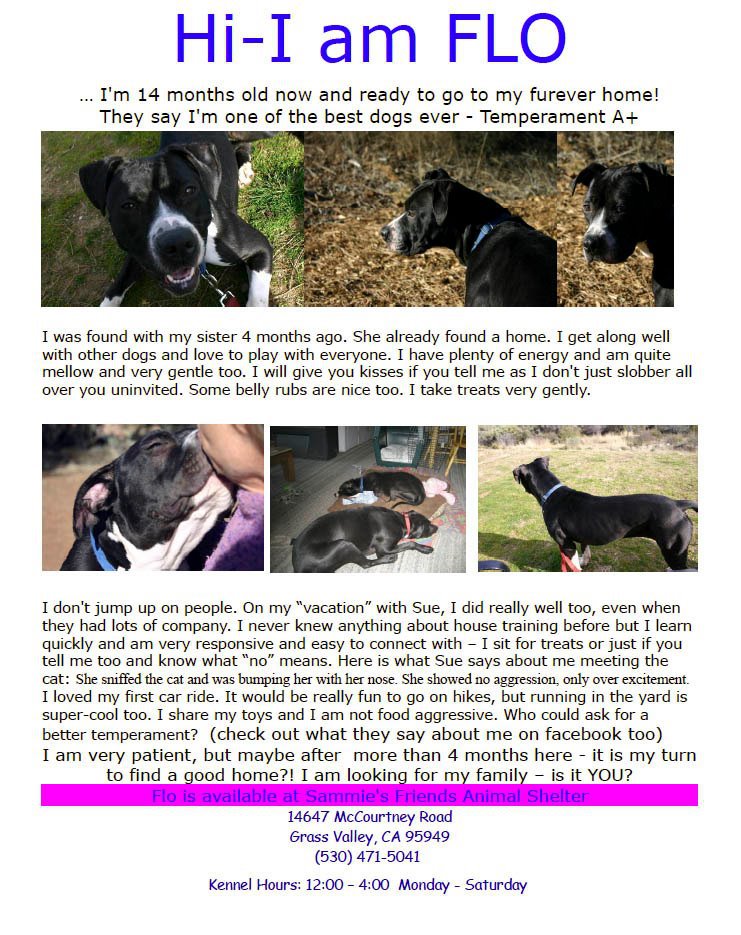 In early a letter went out to the shelter volunteers with a list of dogs and cats that came and went and also a plea: there were several dogs that had been there for many weeks, even months. Flo is one of them. At the time of this writing Flo, a former stray, is 14 months old. She had been found with her sister who got adopted a long time ago & Flo is now"at home" at the shelter …yes, she has been here at the shelter for 4 months for no good reason.
This beautiful girl is ready to go home to her furever home. She is lively, responsive to my after very little time, loves to play – and play some more, though not at all hyper. My impression is that she would be a good jogging or hiking buddy. Takes treats very gently. She is good with other dogs. I took her out yesterday and today tried to get some pics. She is said to be a pittie mix, I can see some lab in her too. We were out in the shelter side-yard today, January 12, our first time there – she can easily be invited to play …runs with you, plays tug a little luke-warm and is easy about dropping, sits for a treat. Looks at you, comes to me when called – this was in the side-yard without other dogs around. I was surprised, seeing how she REALLY wanted to get out of the kennel -…how just playful and mellow she is out in the yard. On walks.. I can easily re-direct her attention towards me. For me, she does not really pull much, though her kennel says "strong walker" She is very sweet. After seeing her a couple of times …she had that look of beginning recognition today: oh …it's you wag wag tail. She does not jump up …she does not slobber all over your face, unless invited – I tested it (once) – some people like that, myself, I prefer it a bit more reserved ….and no kissing without at least some encouragement. She will be someone's totally awesome best buddy.
FLO-white-2