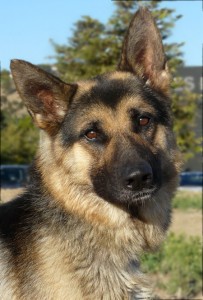 Glen Miller: Reposting from the Westside page because this is important. Sometimes a few bucks can make a big difference for a dog. This is the case.
"Tony's dream might come true"
Tony's options have finally run out, all we are able to offer him now is a life in a kennel. He has a problem with being incontinent from a trauma to the back of his spine, either he was hit by a car or hit with something. He loves people and other dogs, he wants to be able to enjoy life, he wants to
… be in the midst of life, but poor Tony is going to be delegated back to a 4 by 8 run. Some wonderful people are inviting Tony to Texas, he would be part of a "working ranch" with lots of people coming and going and other animals
and maybe even a job to do!
We are trying to raise money for Tony's trip which all together would be around $600. Please help us do this for Tony! Please go to www.paypal.com, choose "Send Money" and enter: address was here Thank you so much!
See video below
For some reason, we at Helping K9s could could not say no to helping this boy with a special need to find a home and today, this notice YAYYYY:
Update: Last week Westside made an appeal for donations to get Tony sent to live out his life on a ranch in Texas. Enough money was raised (with help from a bunch of our members) to get Tony transported to his new home. This beautiful young guy will now have a forever ranch and family. Good job everyone.
http://www.wgsr.org/tony-von-malibu-2/Sondra, his new owner promises to send us updates and pictures.
Yes, thanks everyone and am looking forward to seeing happy pictures 🙂
We will keep you updated.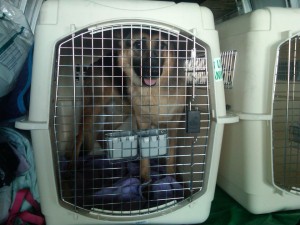 September 28, 2011: A message from Tony: "Howdy Partners! I arrived at my new home in Texas & I even got a new hat so I fit right in. I want to send a special Thank you to all of those who donated for my transport, and to my new Mom. I get to play on a ranch now with my new brothers & sisters, & there is a new Giddy-up in my step. Thanks again so much."